http://www.tulsaworld.com/business/employment/local-business-leaders-see-both-opportunities-and-challenges-in-coming/article_f9067b4c-2f6f-5b01-96aa-9e2216720980.html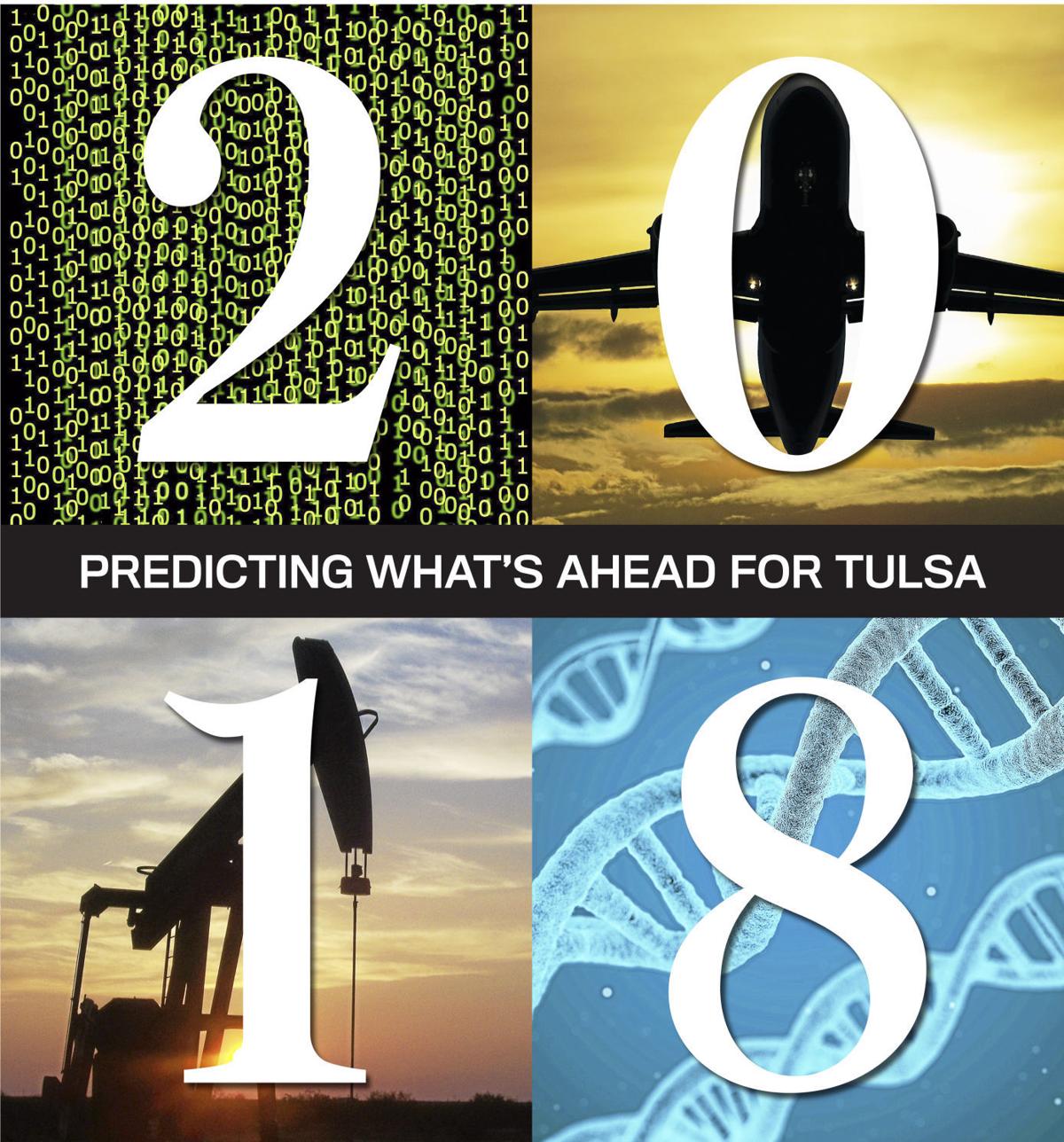 How will the economy and industry perform in 2018? We asked local business leaders what they thought the new year would bring. From banking to real estate, energy to entrepreneurship, read about their expectations for Tulsa.
Mark VanLoh, Tulsa Airports CEO
2018 will be a great year for aviation in Tulsa and across the United States. Our region's aviation and aerospace sector is thriving with activity increasing at airport-based tenants, including Lufthansa Technik Component Services and American Airlines.
Nationally, airlines are adding seat capacity as the economy continues to expand, and traffic at Tulsa International Airport is expected to grow by 3 percent. Low-cost airlines are adding service across the nation, and we look forward to welcoming Frontier Airlines back to our market in March with service to Denver, followed by nonstop service to San Diego and Orlando in April.
The transition of our concession program will also wrap up in 2018, with all new restaurants to serve our passengers and the addition of pre-security offerings for the enjoyment of all guests.
Overall, 2018 is shaping up to be a year of positive change for our industry and our airport.
Clarence V. Boyd, vice president of commercial banking for Bank SNB
Banking is an industry in which management can dictate the success of the organization regardless of the state of the economy. Tax reform is expected to generate corporate growth, business expansion and a plethora of banking opportunities and disposable income for individuals.
But credit is a commodity, and the banking business is now being determined by the depth of your relationships with your clients, as well as your reputation in the communities in which you serve.
I think Tulsa is seeing a rebirth, and the renaissance has already started at Tulsa's core. We are seeing a return to downtown, and the activity is beginning to spread around the IDL. We have a matured midtown, the Pearl District has re-emerged, and the city is taking the necessary steps to bring north Tulsa to the table. It is an atmosphere that I am excited to be at the genesis of.
Lynn Flinn, president and managing partner of The Rowland Group
For employers, we expect 2018 to be a strong year for hiring. The energy industry will see more growth this year than in the last three years. Hiring will be in strong demand, and there will be a shortage of talent.
Additionally, even though many baby boomers are working past age 65, the retiring boomers are impacting the need for immediate hiring and fast-track training to replace the experienced employees.
Healthcare will continue to experience needs for skilled employees as shortages for talent exist. More must be done to recruit, retain and train workers to supply the needs for the healthcare industry.
Manufacturing is already experiencing backlogs on orders and cannot keep up with the demands. More talent is also needed within this sector.
Overall, for 2018 we project a substantial hiring year for both contract and direct hire. If companies are considering hiring, they should start early and provide a competitive compensation package and a quality work culture to get the top talent.
Daryl Woodard, SageNet CEO
The focus on cybersecurity will continue in 2018, with a larger focus on two key areas: IOT and SD-WAN. The last couple of years have seen a proliferation of Internet of Things devices, from industrial sensors to appliances to pacemakers to children's toys. Unfortunately, in many cases security has been an afterthought.
Every new connected IOT device (projected to surpass 9 billion in 2018) increases the vectors to attack a network and exposes systems that have never been internet accessible in the past. To cybercriminals, the Internet of Things is an opportunity for the breaching of things. 2017's breaches were the largest ever, and 2018 will likely see even larger and more frequent breaches.
The other major cybersecurity trend in 2018 will address software-defined wide area networking. Unlike traditional fixed-path networks with fixed security controls, SD-WAN allows organizations to dynamically route network traffic, based on a variety of performance factors such as traffic, speed and cost requiring new ways to protect data.
The good news is that Tulsa companies and residents have access to tools, techniques and talent to protect, detect and respond to these threats, but it will require every Tulsan connected to the internet be more vigilant than ever.
Jeff Martin, Magic City Books founder
We don't have a science fiction section at Magic City Books. We call it "Speculative Fiction." That's what we do when we talk about the future, we speculate.
The reception to the opening of the store surpassed our wildest expectations. People seem thrilled to have us here. But they don't realize that the space, the books, are just the physical foundation.
In 2018, we'll begin to show how we can truly impact our community through outreach, collaboration and a lineup of authors that will rival similar programs in America's biggest urban centers. The point? We've only just begun.
Rose Washington, executive director of the Tulsa Economic Development Corporation
When I chat with business owners, executives and bankers about "things that keep them up at night," two themes are common: complying with an increased regulatory burden and maintaining a qualified workforce.
Although our state may not experience shocking expansion, I do anticipate positive change in commercial lending and economic growth in 2018, barring the unforeseen. Most of our focus will continue in the area of nontraditional commercial lending targeted at startups and expanding businesses, both engines of economic growth and revitalization.
A few special initiatives that are worth noting include working in partnership with a variety of stakeholders to address food insecurity issues with plans to build space for a new grocery store in north Tulsa and rolling out a strategy to develop 35 acres in Vann Industrial Park near O'Brien Park, which has been practically dormant for more than 40 years.
2018 is a year of eager anticipation!
Dustin Curzon, executive director of 36 Degrees North
I am very optimistic for Tulsa in 2018 because our community cultivates entrepreneurs who both vigorously pursue their dreams and support those around them. By investing in entrepreneurs, we will pave the way for an innovation-based economy that reaps dividends for the city.
In 2018, as more people choose to start businesses, shared workspaces like 36 Degrees North and The Bridge will provide stable places to start, network and grow. Community organizations like the Lobeck Taylor Family Foundation and Kiva will create more opportunities for underserved entrepreneurs to access the education and capital needed to launch new businesses.
Programs like Kitchen 66, The Forge, BetaBlox and Coding Dojo will quickly fill with diverse participants from around the region as more entrepreneurs become aware of the opportunities available to improve their businesses here in Tulsa.
I hope that, in 2018, our state Legislature will substantially address education funding or get out of the way so our local government can do it. There is no greater hurdle for us to overcome if we want to build an innovation-based economy.
Tulsa has all of the pieces needed for a thriving, innovation-based economy. In 2018, I'm confident we will make great strides in building our future.
Jake Dollarhide, CEO of Longbow Asset Management Co.
In 2018, I look for the nontraditional e-(re)tailers, such as Amazon, eBay, Wayfair and others, to continue to gain traction and pick up market share from traditional "brick and mortar" retailers as the general consumer continues to change their shopping habits and preferences for buying goods and services.
However, my prediction is that the traditional brick-and-mortar companies, such as Macy's, Kohl's, Gamestop, Williams Sonoma or Target, are not going to go quietly in the night and will stand up and fight these unnerving trends toward shopping from home versus shopping at the mall.
I believe traditional retailers will opt for more in-store experiences as well as bulking up their online capabilities to become more relevant in the new world of shopping.
Stephanie Heckenkemper, agency principal of Heckenkemper
Small business will continue to thrive in Tulsa — business leaders are expanding and exploring innovative ways to engage directly with their customers. Consumers are putting a greater value on researching and connecting with companies online and will expect accessible interactions instantly. They want to connect with real people at the stores and companies they buy from, no bots or automated response messages.
We expect to see businesses shift away from the "Buy! Sale! Like us!" rhetoric and focus instead on sharing content that matters to their core audience. Video will play an even larger role, and live video will be a regular rotation in the social media mix.
Mega-influencers have a broader reach, but it's diluted and misses the mark with large segments of customers. Micro-influencers are the authentic voice of influence for brands. How to mobilize this to a practical strategy will be the focus for 2018. The key understanding here is Effective = Engagement.
Social media is ever-evolving, and small business leaders do not ever stop trying. Stamina and endurance have been and will always be the force that keeps things moving in our community.
Steve Wright, owner of Castlerock Builders
In 2017, since electing a new president, the stock market has risen and home sales have increased. I predict the stock market will continuously increase and stabilize in 2018, making it a great year for new construction and home sales.
Specifically there will be growth within the upper market — $500,000 and up will see an increase in sales.
There will be correlation between growth within the city of Tulsa and the housing market. The Gathering Place will continue to move the city forward and open several new avenues for the city. Mayor G.T. Bynum has been working hard to grow the northern part of Tulsa.
Commercial construction will continue to pick up as new companies are continuing to grow in the city. Also, there will be continued growth in south Tulsa, which has expanded into Bixby and the Tulsa Hills area. There are several new luxury subdivisions opening up in 2018, especially within the south Tulsa neighborhoods.
We are pledged to the letter and spirit of U.S. policy for the achievement of equal housing opportunity throughout the Nation. See Equal Housing Opportunity Statement for more information.